Meet Our Dentists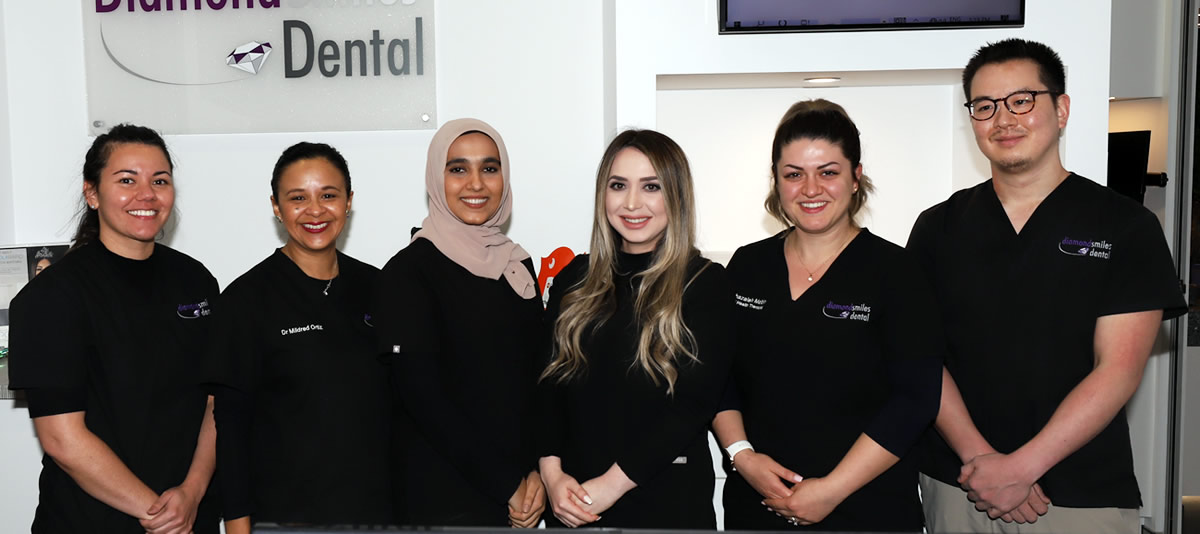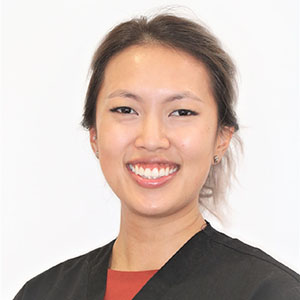 Dr Ching Wen Tan, Dentist
I have always thought that a friendly smile can go a along way.
Dr Ching began her journey to becoming a dentist at the University of Western Australia, graduating with a Bachelor of Science and Doctorate of Dental Medicine. Ever since, she has aimed to provide patients with the compassionate, ethical and effective dental care that they need. She believes in not only helping patients unlock their best smile yet, but truly listening to their needs and goals, and helping them to create healthy, lifelong positive oral hygiene habits.
In order to provide patients with the best possible care, Dr Ching continues to partake in professional development courses, recently attending a class on Dentofacial injections through the Australasian Academy of Dento Facial Aesthetics. She also continues to take courses across the dental field in order to stay up to date with the latest techniques and technology. Ultimately, her goal is to help patients achieve theirs.
Outside of the Practice
When she isn't crafting beautiful smiles in the practice, Dr Ching loves to work out, do yoga and explore new restaurants. She's a passionate 'foodie', inspired greatly by her upbringing in Malaysia.
Get to know more about Dr Ching when you visit us for your next appointment.
Dr Ching is an independent dentist located at Diamond Smiles Dental.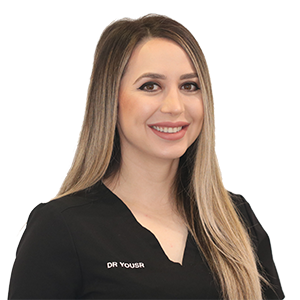 Dr Yousr Kanbour, Dentist
I always knew I wanted to work with people in a health setting and change their lives for the better in any way that I could. Dentistry meant that I could put my focus on their oral health and enhance their lives one smile at a time.
As a dentist, Dr Yousr enjoys getting to meet people from all walks of life and tailoring a plan best suited for each individual. She also finds it fulfilling to help restore people's confidence.
To prepare for her dental career, Dr Yousr earned a Bachelor of Dental Science from the University of Western Australia in 2014. So she can stay abreast of the latest in the field, she takes continuing education courses. To date, she's taken ones on the following: muscle relaxants/dentofacial injections and fillers, and cosmetic dentistry courses including crowns and veneers.
In Her Spare Time
Outside the practice, Dr Yousr loves to bake, make short videos and skits and film them for entertainment. She also enjoys travelling to the United States and New Zealand to visit her nieces and nephews. Sleeping and eating are also two of her favourite things to do!
A few fun facts about Dr Yousr: she played most sports in high school and was able to win the championships for lacrosse in New Zealand. "I also have won every speech award throughout high school; public speaking is what I crave the most!"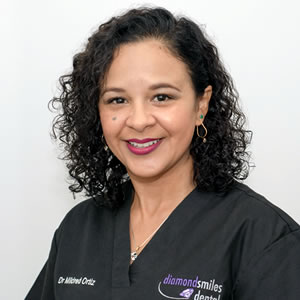 Dr Mildred Ortiz Solarte, Dentist
Treating a patient from the start to the end of their treatment plan, and seeing what a huge change this treatment has had on the patient's life, their confidence and happiness is a massive reward of being dentist.
Dr Mildred's inspiration for becoming a dentist was influenced mainly by her parents who were biology and chemistry teachers. She loved reading their biology and chemistry books and learning about how the human body works.
Education and Experience
In 1994, Dr Mildred graduated with her dental degree from The Colombian Dentistry School UNICOC- Colombia. She also possesses the following:
Specialist in Restorative Dentistry- 1999 University of Chile – Chile (graduated with distinction)
Specialist in Aesthetic Dentistry – 2006 University Andrés Bello – Chile (passed with maximum distinction with honours)
Master's degree in Pedagogy Education in Adults- 2012 University Mayor
Always wanting to challenge herself to improve and develop as a dentist, Dr Mildred enjoys furthering her education. In Australia, she has taken courses in Digital Dentistry and Smile Design.
Dr Mildred also loves teaching. In Chile, she used to be a lecturer of dental materials at the University Diego Portales. Her background has allowed her to be a member of the Assessment Committee of the Australian Dental Council.
In Her Spare Time
Outside the practice, Dr Mildred loves doing Hot Pilates and likes outdoor sports such as hiking and trekking. Dr Mildred is also an animal lover and enjoys taking early morning walks with her dog.
Her other favourite hobbies include reading thrillers and doing craftwork such as the artistic mosaic technique.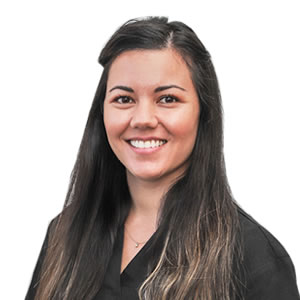 Dr Jade Drummond, Dentist
For Dr Jade, it's always been in her nature to want to help others, be it family, friends or strangers needing a helping hand. Dentistry gives her a platform to help others achieve their optimum oral health and allows her to work with her hands every day.
To prepare for her dental career, Dr Jade earned a Bachelor of Science and Doctorate of Dental Medicine from the University of Western Australia. She graduated in 2020.
As a new graduate, Dr Jade looks forward to taking many continuing courses. She plans to take the New Practitioner Program which spans over four days and focuses on endodontics, patient experiences, clinical photography and paediatric dentistry.
As learning is constant, Dr Jade believes continued development and taking regular courses will help to ensure her clinical knowledge is up to date and always improving.
Just as Dr Jade provides high-quality dental care, she also seeks to create an environment where patients feel comfortable and safe, particularly those with a history of dental anxiety.
Staying Active in Carramar
When she's not at the office, Dr Jade enjoys being outdoors and finding an adventure. "As Perth has some stunning sights to see I spend a lot of time outdoors, whether it's going to the beach, stand up paddle boarding on the Swan River or hiking in the hills." She is also passionate about art, particularly acrylic painting.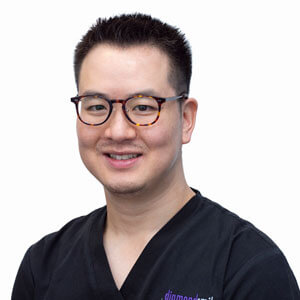 Dr Ky Nguyen, Dentist
Until I found dentistry, I was never sure what I wanted to do with my career. Dentistry is one of the few positions where I can make a lifelong personal connection with someone, get to know their family throughout the years and care for one of the most important parts of the body.
Dr Ky believes that being able to treat someone's health is one of the most critical roles in society. "Being a dentist is truly a privileged role, and each time a patient walks through the door to see me, I know they have entrusted me with a very special responsibility."
Education & Experience
In 2019, Dr Ky graduated from the University of Western Australia with his Doctor of Dental Medicine. He also earned a Bachelor of Engineering (Civil) with Honours and a Bachelor of Commerce (Management and Management Accounting) from the University in 2009.
Dr Ky has taken a course in how to do surgical extractions so he can provide this service to our patients. He also constantly speaks to other members of the dental community to widen his knowledge.
As a dentist, Dr Ky has worked with patients from all walks of life. Whether he's relieving a patient's toothache, crafting a beautiful smile for an adult or performing paediatric checkups, Dr Ky likes providing care for all ages. "The personal connection that comes from being able to do these things is central to being a great dentist."
Enjoying an Active Life
When he's not caring for his patients' smiles, Dr Ky loves to dance and work out at the gym. "My one-arm handstand is one of the best in the state, believe it or not. I have been known to bust a few moves whilst I'm working-who says you can't mix business and pleasure." Dr Ky invites you to see his one-arm handstand in person!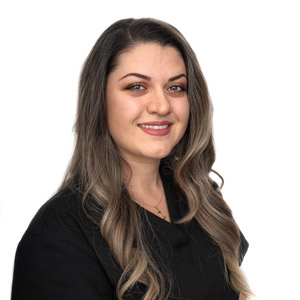 Ms Ghazaleh Mobin, Oral Health Therapist
Ghazaleh attended Curtin University to prepare for her career. She graduated in 2018 with a Bachelor of Clinical Science and a Bachelor of Oral Health Therapy. To stay abreast of the latest trends in her field, she takes continuing education courses.
She is particularly passionate about helping patients overcome their dental anxiety. Ghazaleh also likes to be able to make a difference in how patients think about dentistry.
Outside the Practice
When Ghazaleh's not at the practice, she enjoys walking her dog along the beach and getting coffee with friends and family.
Ms Gazaleh is an independent oral health therapist located at Diamond Smiles Dental.

Hosai Nazifa, Oral Health Therapist
Hosai graduated from Curtin University in 2016 with a Bachelor of Science in Oral Health Therapy. From a young age, her interest in science and medicine propelled her into the dental field, ultimately deciding that a career in oral health therapy was a perfect fit. Every day, she enjoys working with patients of all walks of life to develop a perfect care plan to meet and exceed their goals.
Oral Health Therapy is a rewarding profession. I love educating my patients-especially children with dental anxiety." – Hosai
Hosai has always been passionate about improving the oral health of everyone she meets, and loves seeing the positive changes that her tips and tricks make in their lives.
Outside of the practice, she enjoys spending time with family and friends. Every now and then, you can find her walking along the beach for a nice stroll and catching up on the latest television show.
Get to know more about her when you book a visit with our team.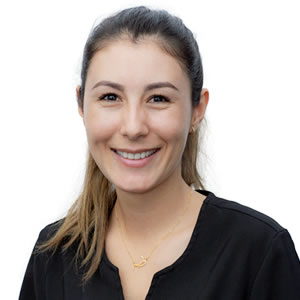 Tayeba Hussaini, Oral Health Therapist
From a young age, Tayeba enjoyed helping others. Eventually, when it came time to select a career path, the idea of working in the dental field became a perfect fit. In 2020, she graduated from Curtin University in Western Australia with her Bachelor of Oral Health Therapy. Ever since, she's been helping patients of all walks of life restore confidence in their smile through proper education.
One of her favourite parts about working at Diamond Smiles Dental is educating patients while helping them to avoid common dental issues and diseases, giving them a brilliant smile for life.
Outside of the practice, she likes to travel and read.
Get to know more about Tayeba when you visit us for your next appointment.
Want to Learn More?
Contact Diamond Smiles Dental today to book an appointment!
CONTACT US
* Any surgical or invasive procedure carries risks. Before proceeding, you should seek a second opinion from an appropriately qualified health practitioner.

Meet Our Dentists | (08) 9405 2225