Meet Our Dentists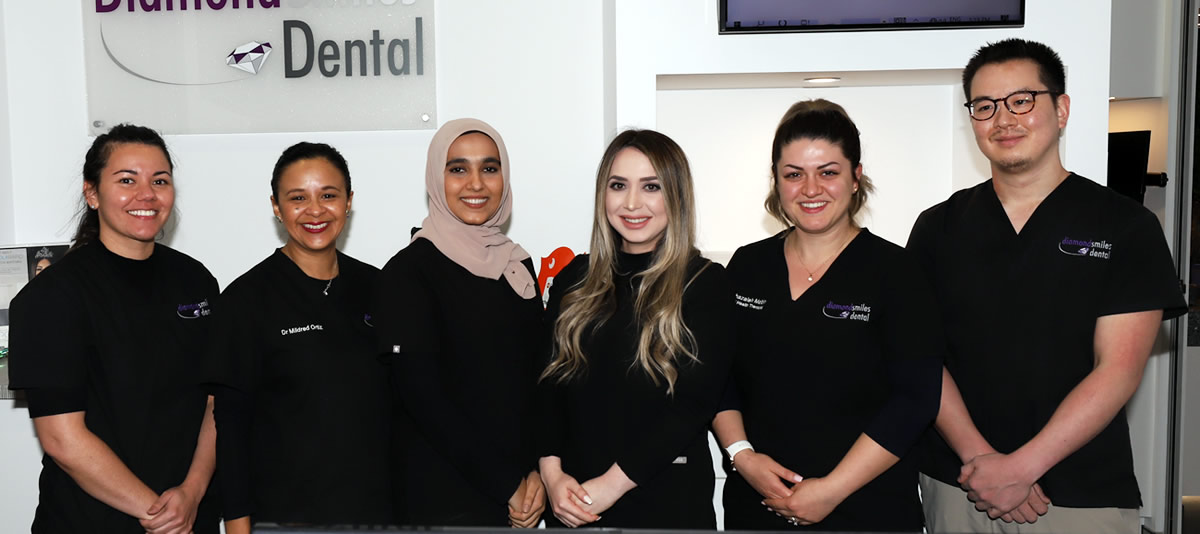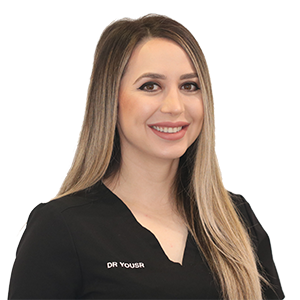 Dr Yousr Kanbour, Dentist
I always knew I wanted to work with people in a health setting and change their lives for the better in any way that I could. Dentistry meant that I could put my focus on their oral health and enhance their lives one smile at a time.
As a dentist, Dr Yousr enjoys getting to meet people from all walks of life and tailoring a plan best suited for each individual. She also finds it fulfilling to help restore people's confidence.
To prepare for her dental career, Dr Yousr earned a Bachelor of Dental Science from the University of Western Australia in 2014. So she can stay abreast of the latest in the field, she takes continuing education courses. To date, she's taken ones on the following: muscle relaxants/dentofacial injections and fillers, and cosmetic dentistry courses including crowns and veneers.
In Her Spare Time
Outside the practice, Dr Yousr loves to bake, make short videos and skits and film them for entertainment. She also enjoys travelling to the United States and New Zealand to visit her nieces and nephews. Sleeping and eating are also two of her favourite things to do!
A few fun facts about Dr Yousr: she played most sports in high school and was able to win the championships for lacrosse in New Zealand. "I also have won every speech award throughout high school; public speaking is what I crave the most!"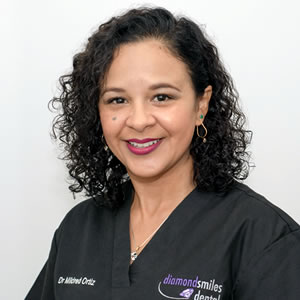 Dr Mildred Ortiz Solarte, Dentist
Treating a patient from the start to the end of their treatment plan, and seeing what a huge change this treatment has had on the patient's life, their confidence and happiness is a massive reward of being dentist.
Dr Mildred's inspiration for becoming a dentist was influenced mainly by her parents who were biology and chemistry teachers. She loved reading their biology and chemistry books and learning about how the human body works.
Education and Experience
In 1994, Dr Mildred graduated with her dental degree from The Colombian Dentistry School UNICOC- Colombia. She also possesses the following:
Specialist in Restorative Dentistry- 1999 University of Chile – Chile (graduated with distinction)
Specialist in Aesthetic Dentistry – 2006 University Andrés Bello – Chile (passed with maximum distinction with honours)
Master's degree in Pedagogy Education in Adults- 2012 University Mayor
Always wanting to challenge herself to improve and develop as a dentist, Dr Mildred enjoys furthering her education. In Australia, she has taken courses in Digital Dentistry and Smile Design.
Dr Mildred also loves teaching. In Chile, she used to be a lecturer of dental materials at the University Diego Portales. Her background has allowed her to be a member of the Assessment Committee of the Australian Dental Council.
In Her Spare Time
Outside the practice, Dr Mildred loves doing Hot Pilates and likes outdoor sports such as hiking and trekking. Dr Mildred is also an animal lover and enjoys taking early morning walks with her dog.
Her other favourite hobbies include reading thrillers and doing craftwork such as the artistic mosaic technique.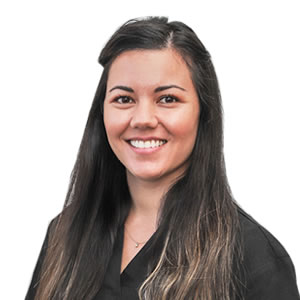 Dr Jade Drummond, Dentist
For Dr Jade, it's always been in her nature to want to help others, be it family, friends or strangers needing a helping hand. Dentistry gives her a platform to help others achieve their optimum oral health and allows her to work with her hands every day.
To prepare for her dental career, Dr Jade earned a Bachelor of Science and Doctorate of Dental Medicine from the University of Western Australia. She graduated in 2020.
As a new graduate, Dr Jade looks forward to taking many continuing courses. She plans to take the New Practitioner Program which spans over four days and focuses on endodontics, patient experiences, clinical photography and paediatric dentistry.
As learning is constant, Dr Jade believes continued development and taking regular courses will help to ensure her clinical knowledge is up to date and always improving.
Just as Dr Jade provides high-quality dental care, she also seeks to create an environment where patients feel comfortable and safe, particularly those with a history of dental anxiety.
Staying Active in Carramar
When she's not at the office, Dr Jade enjoys being outdoors and finding an adventure. "As Perth has some stunning sights to see I spend a lot of time outdoors, whether it's going to the beach, stand up paddle boarding on the Swan River or hiking in the hills." She is also passionate about art, particularly acrylic painting.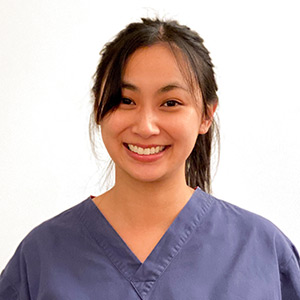 Dr Su Lin Lim, BDSc (UWA) FICOI (Implantology)
Su Lin is a passionate and friendly senior Dentist who has focused her area of practice on dental implants, dento-alveolar surgery and aesthetic rehabilitations.
She is a local graduate from Perth. Having completed her Bachelor's Degree at the University of Western Australia, she has since trained with a number of Specialists around the world in the fields of bone grafting, sinus augmentation, smile design and All-on-4 rehabilitations, Invisalign and muscle relaxants for Temporo-mandibular joint dysfunction.
Read more about Dr Su Lin…
Su Lin is committed to improving the oral health and smiles of all her patients and regularly attends professional development courses to stay updated on the latest dental advances. She believes that everyone should have a smile that they feel confident about. As no two people are alike, your treatment plan will be custom-made for your individual wants and needs. If your dental fear is stopping you from seeking out treatment, ask about our sedation options so you can be comfortable and relaxed during your time at Diamond Smiles Dental.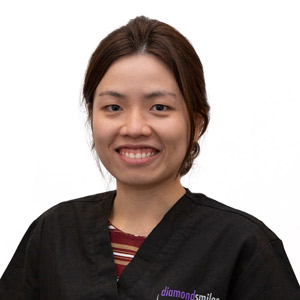 Dr Zin Zin Wong, Dentist
Dr Wong grew up always knowing that she wanted to be a dentist. After having had orthodontic work done in her adolescence, she's been working toward her dental dreams—and at Diamond Smiles Dental, loves helping patients every single day.
Dr Wong received a Bachelor of Science (Biochemistry) from Melbourne University, followed by a DMD from the University of Western Australia, graduating in 2021.
She enjoys participating in professional development courses as it provides them with the necessary tools and knowledge to help patients achieve their own smile goals.
"Helping patients get a beautiful smile, regain their confidence, and ultimately changing their life is the best part about my job."
Outside of the Practice
Dr Wong enjoys volunteering and providing dental services for the less fortunate, trying new restaurants in and around Carramar, and spending time with friends in her spare time. Originally from Singapore, Dr Wong loves to talk about her hometown culture—if you're curious, ask at your next visit.
We look forward to welcoming you into the practice.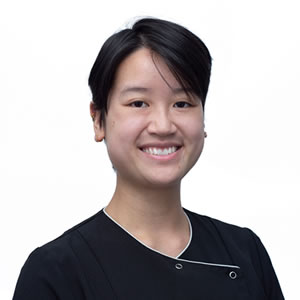 Dr Han Nguyen, Dentist
Growing up, my family could not afford to see a private dentist, so when the opportunity came up to study dentistry, I thought it sounded exciting. I didn't know what being a dentist really meant, but now that I'm here, I can't wait to see where my career takes me.
Dr Han earned a Bachelor of Biomedical Science from the University of Western Australia and a Doctor of Dental Medicine from the University of Western Australia. She graduated in 2021. To further her education for the benefit of her patients, Dr Han plans to regularly take CPD courses in any and all parts of dentistry.
For Dr Han, the most fulfilling part of being a dentist is to educate people on their oral health and how it can affect their wellbeing. "I think that through education, we can have greater prevention of oral disease." Dr Han hopes to connect with her patients and help them achieve their dental goals, whether it is having a terrific smile or enjoying all their favourite foods.
Outside the Practice
In her spare time, Dr Han enjoys going out for brunch and her favourite coffee order is an oat iced latte. When she's not trying new food at restaurants, she likes to spend time with her cat, Veggie Burger.
Want to Learn More?
Contact Diamond Smiles Dental today to book an appointment!
CONTACT US
* Any surgical or invasive procedure carries risks. Before proceeding, you should seek a second opinion from an appropriately qualified health practitioner.

Meet Our Dentists | (08) 9405 2225