Dental Fillings at Diamond Smiles Dental
If your tooth is affected by decay, the team at Diamond Smiles Dental can restore it back to its natural shape, colour, and function using various dental procedures, such as fillings, inlays, and onlays. Dental cavities and decay are common oral health concerns, but that doesn't mean they have to affect your smile or your confidence. Our reliable, durable, and gentle restorative dentistry services will help you achieve optimal oral health and wellbeing in no time.
Dental Fillings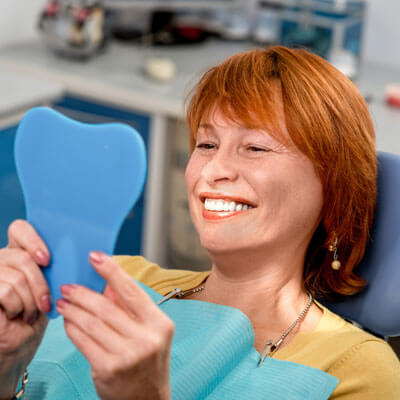 Dental fillings are one of the most common procedures we perform at our practice. They are made from a variety of safe and trusted materials, including composite or porcelain, and can often successfully repair any tooth within your mouth.
Once a tooth has become affected by decay, it continues to erode the tooth and can cause both pain and sensitivity. This is why it's important to seek treatment as soon as possible, as our dentist can quickly put a stop to further decay and discomfort with a filling. Not only does the filling repair the damage to the tooth, but it also stops bacteria from entering the site and wreaking more havoc.
The Dental Filling Procedure
Fillings are a very simple and straightforward procedure for our professional dental team and patients will be pleased to hear that the treatment is virtually painless. This is because we administer safe and effective anaesthetics to ensure our patient's complete comfort.
The procedure begins by numbing the area surrounding the affected tooth. We then use special instruments to remove the decay, whilst leaving as much of the tooth's natural structure as possible. Your dentist then disinfects and dries the site of the cavity, ready to place the filling material. Once the filling material has hardened, it will be expertly shaped to look and feel just like your natural tooth again.
Inlays and Onlays
Inlays and onlays are another form of restorative dental services provided here at Diamond Smiles Dental. Similar to dental fillings, they are used to treat and restore tooth decay or similar damage. The difference, however, is that fillings are directly moulded into the cavity, whereas inlays and onlays are custom-made in the dental lab before being bonded into place in our practice.
Before and After

Build a Beautiful Smile at Diamond Smiles Dental
Are you interested in speaking to our professional team about any of the restorative dentistry procedures mentioned above? Contact us today to schedule a consultation with our dentists!

Dental Fillings Carramar, Tapping, Banksia Grove, Joondalup WA | (08) 9405 2225/h3>