Gentle Dental Extractions at Diamond Smiles Dental
As dental health care professionals, it is always our priority to try to save a patient's natural tooth. However, there are some cases where this isn't possible, and extraction is the only solution to alleviating the patient's pain, discomfort, and infection.
The Diamond Smiles Dental team have immense experience in performing gentle dental extractions and go above and beyond to ensure that a patient's experience is as comfortable and pain-free as possible. We do this through our state-of-the-art dental equipment, as well as our tried and tested pain management methods.
When Does a Tooth Need to Be Removed?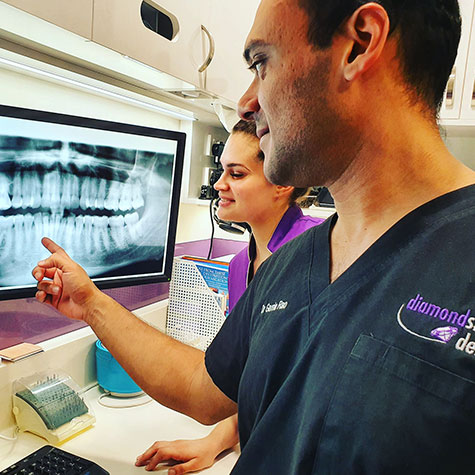 There are a number of reasons why a tooth may need extracting, with the most common of these including infection or breakage. Additional reasons can include:
Severe tooth decay
In preparation for orthodontic treatment such as braces
Severe gum disease
Malformed, supernumerary or supplementary teeth
In preparation for prosthetics such as dentures
Our dental experts will always evaluate a tooth to ensure that extraction is the most beneficial solution for each patient.
What to Expect During Your Procedure
Before proceeding with the extraction, we will first use local anaesthetic to carefully numb the area around the tooth. We then use special dental instruments to grasp, elevate, and successfully remove the tooth. After the extraction, we may or may not need to place stitches in the area to aid with healing. Lastly, our professional dentists will provide you with some post-procedure instructions to ensure an optimal and speedy recovery.
Alleviating Pain and Infection
If you suspect a tooth may need extracting or wish to discuss extraction further with our professional team, please contact Diamond Smiles Dental today! Our dentists will thoroughly examine the site of the tooth to determine whether extraction is the best option for you.
* Any surgical or invasive procedure carries risks. Before proceeding, you should seek a second opinion from an appropriately qualified health practitioner.

Teeth Extractions Carramar, Tapping, Banksia Grove, Joondalup WA | (08) 9405 2225