Invisalign® at Diamond Smiles Dental
Would you like to smile with more confidence? If you have teeth that are crooked or have an overbite or underbite, Invisalign can give you a beautiful, straight smile that you'll be proud to show off. At Diamond Smiles Dental, we offer Invisalign treatment as it's the most trusted brand of aligners available today, and it gets superb results!
How Does It Work?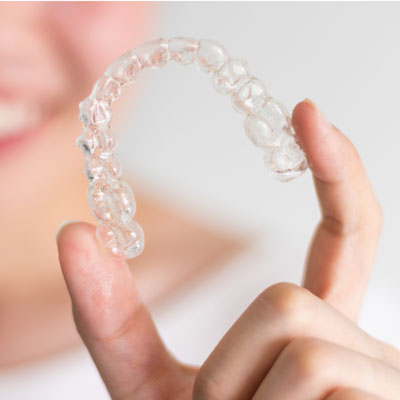 Invisalign uses comfortable, clear and non-toxic plastic aligners that gradually shift your teeth into place over time. Because the aligners are practically invisible, you can achieve a straighter smile discreetly.
Benefits of Invisalign
This aligner system provides an array of fantastic benefits for wearers. Invisalign:
Is removable so you can enjoy eating all your favourite foods
Makes brushing and flossing easy
Involves fewer and shorter trips to the dentist
Isn't uncomfortable like traditional metal braces can be
Is gentle on teeth as an adhesive is not used as it is with traditional braces
Your Customised Treatment Plan
Based on your individualised treatment plan, a series of custom-made clear aligners will be created specifically for you. They simply slide over your teeth making them easy to wear. You will switch out your aligners for a new set about every two weeks, gradually making the changes you want in each phase. The total number of stages is dependent on the changes required.
It's essential to know that you must wear the aligners for at least 22 hours a day, removing them only to brush and floss your teeth.
What could you look like with straighter teeth?
The SmileView simulation tool uses powerful technology to provide you with a computer-generated simulation of how your smile might look like with straighter teeth. Scan the QR code with your mobile device – if you're already on a mobile device click here.
---
Schedule a Visit Today!
If you wished you had gotten braces when you were younger and now want to do something about straightening your smile, Invisalign is an excellent option. Contact us today to book a consultation with one of our dentists. We offer National Dental Plan (NDP) Payment Solutions to make your dental care affordable.
CONTACT US
* Any surgical or invasive procedure carries risks. Before proceeding, you should seek a second opinion from an appropriately qualified health practitioner.

Invisalign Carramar, Tapping, Banksia Grove, Joondalup WA | (08) 9405 2225