Oral Sedation at Diamond Smiles Dental
Sedation Dentistry for Anxious Patients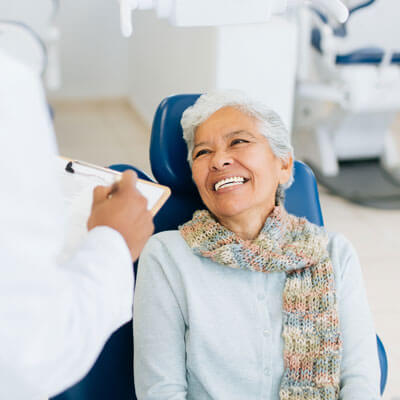 If you suffer from a fear of the dentist, the friendly team at Diamond Smiles Dental are here to help. Not only do we offer a range of sedation dentistry, including IV sedation and sleep dentistry, but we also provide patients with oral sedation to help them get through their treatment with as little discomfort as possible.
If you find yourself experiencing symptoms of stress and anxiety in the lead-up to your treatment or are putting off a visit to the dentist altogether, then oral sedation may be the perfect solution for you.
How Does Oral Sedation Work?
Unlike IV sedation (which is administered intravenously,) oral sedation involves taking medication in liquid or tablet form. This specially-formulated medication is a combination of anti-anxiety and pain-relieving medicines, helping the patient to have a comfortable and positive experience during their treatment.
Oral sedation is administered by our dental health care professionals, who are highly trained in sedation dentistry and pain management. While all methods of sedation are trusted and safe, oral sedation provides the least complex and invasive option.
When Would a Patient Consider Oral Sedation?
Apart from helping patients to overcome their dental anxiety for treatment, oral sedation offers a number of benefits to patients. Not only is it an excellent method of pain management and relief, but it's also the perfect choice for patients who wish to be comfortable, yet fully conscious, during their procedure.
Oral sedation is also a more affordable sedation option than IV sedation, as it is a less time-consuming and complex method. It can be administered for a wide variety of dental procedures and can also benefit those who are time-poor but require extensive treatment in a single appointment.
Is Oral Sedation Right for You?
If you would like to find out more about oral sedation and if it is the right method for you, please schedule a consultation with our caring and friendly dental team today!
* Any surgical or invasive procedure carries risks. Before proceeding, you should seek a second opinion from an appropriately qualified health practitioner.

Oral Dental Sedation Carramar, Tapping, Banksia Grove, Joondalup WA | (08) 9405 2225