Root Canals at Diamond Smiles Dental
Our team of dental health care professionals also perform root canal treatment to successfully treat and save an infected tooth. Thanks to our state-of-the-art dental technology and modern advancements within the industry, root canal therapy is now a fairly straight-forward and quick process, usually occurring within as little as two appointments.
Do You Require Root Canal Treatment?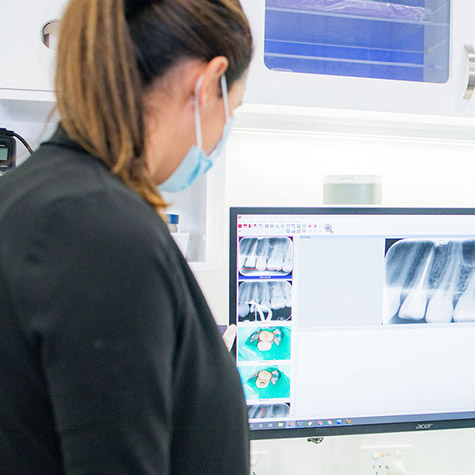 When the nerve or pulp of a tooth becomes infected and inflamed, patients can experience pain and discomfort. If left without treatment for too long, the tooth may need to be removed entirely, therefore it is important to act upon any of the following symptoms:
A tooth containing a chip, crack, or hole
Pain in the tooth when chewing or applying pressure to the area
Gum tenderness or swelling
Swelling of the face and/or neck
An abscess or lesion on the gum surrounding the potentially infected tooth
Discolouration of the tooth
Extreme and long-lasting sensitivity in a particular tooth when consuming hot or cold food and beverages
The Root Canal Treatment Procedure
Root canal treatment was once known as a long and painful procedure; however it has since become a lot easier and faster to perform, meaning that it is now no more uncomfortable than receiving a filling.
During your initial consultation, your dentist will take oral X-rays to further determine where the decay is located. In preparation for your procedure, local anaesthetic is administered to the affected tooth, before the dentist begins what is known as a pulpectomy. The pulpectomy simply involves making an opening in the crown of the tooth, before cleaning the affected pulp from the tooth's root canals and pulp chamber.
The space is then shaped and filled with a safe biocompatible material. The final step involves using adhesive cement, and in most cases, a temporary filling to successfully seal the root canals. In a follow-up appointment, the dentist will also place a crown or other restorative measure on the tooth to protect the structure from further damage.
Schedule Your Appointment Today!
If you have any of the warning signs listed above or wish to find out more about root canal treatment, please schedule a consultation with our professional team today!

Root Canal Treatment Carramar, Tapping, Banksia Grove, Joondalup WA | (08) 9405 2225