Wisdom Teeth Removal at Diamond Smiles Dental
Wisdom teeth extractions are a very common procedure at our practice, with our professional team being highly trained in the precision and gentle care required for this treatment. Our technologically advanced equipment also allows us to gain a more comprehensive overview of the site, resulting in an accurate and reliable extraction that is as comfortable as possible.
During the extraction, patients will be placed under local anaesthetic to assist with pain management. Wisdom teeth extractions that are completed in-chair also allow the patient to have a much faster recovery than those performed under general anaesthetic in hospital, with many ready to return to normal activities within less than four days.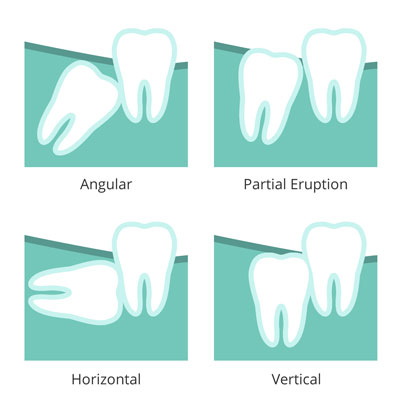 When Do Wisdom Teeth Need to Be Removed?
Wisdom teeth usually erupt in a patient's mouth in their teenage years or early twenties. It is during this time that they often cause concerns. A wisdom tooth may need removing if:
It is trapped in the jaw and therefore unable to erupt
The tooth is showing signs of decay
The patient is experiencing pain and discomfort
The tooth is unable to erupt due to being blocked by surrounding teeth
The tooth is causing pain, swelling, and irritation in the gum
The Wisdom Tooth Removal Process
During your first consultation, your dentist may take oral X-rays or intra and extra oral photographs to gain a more comprehensive overview of your mouth. You will also discuss topics such as pain management (for example, if the procedure will be performed under local or general anaesthetic), and our team will address any questions you may have regarding the treatment.
To make the extraction, the tooth socket will be widened using a special instrument, before the wisdom tooth is removed. In cases where the tooth is deeply impacted, an incision in the gum or bone removal may also be necessary. The area will then be closed with dissolvable stitches.
Depending on the number of wisdom teeth being extracted, patients can expect the procedure to take between 30 – 60 minutes.
Gentle Dental Extractions at Diamond Smiles Dental
Do you have problematic wisdom teeth or wish to find out more about this common procedure? Please call (08) 9405 2225 today to schedule a consultation with our professional and caring team!
CONTACT US

Wisdom Teeth Removal Carramar, Tapping, Banksia Grove, Joondalup WA | (08) 9405 2225