Sleep Dentistry at Diamond Smiles Dental
Helping Anxious Patients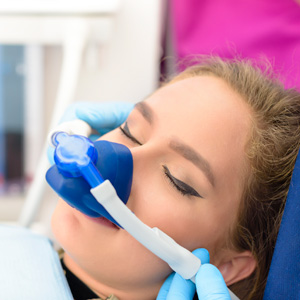 At Diamond Smiles Dental, we understand some patients may experience high levels of stress and anxiety when undergoing dental procedures. This can be due to many reasons, including past trauma, inaccurate portrayals of dentistry in the media, or a lifelong dental phobia.
No one should have to miss out on receiving dental treatment, nor should they have to suffer from poor dental health and hygiene. This is why we also offer sedative methods. We can administer sleep dentistry for a variety of treatments and procedures, including cosmetic, restorative, and general dentistry.
The Advantages of Sleep Dentistry
Sleep dentistry is safe, reliable, and effective. It is administered via inhalation through a comfortable breathing mask, helping the patient to overcome their anxiety or discomfort within a short timeframe.
We use sleep dentistry because of the many benefits it offers patients, including:
It takes just 2-3 minutes to take effect
Patients become more relaxed without falling asleep, making them feel comfortable that they are still conscious for the procedure
It is safe to use on both infants and adults, producing no dangerous side-effects
It effectively controls and minimises pain and discomfort
Involuntary actions (such as the gag reflex) are minimised
Patients become more confident about visiting the dentist due to the positive and stress-free experience sleep dentistry offers
Pain-free Dentistry in Carramar
To discuss how our team of dental health care professionals can help you, please contact us on (08) 9405 2225 today. Our patient's comfort and wellbeing are of utmost importance to us and we would love to assist you and your family in any way we can!
CONTACT US
* Any surgical or invasive procedure carries risks. Before proceeding, you should seek a second opinion from an appropriately qualified health practitioner.

Sleep Dentistry Carramar, Tapping, Banksia Grove, Joondalup WA | (08) 9405 2225