Management Team
Our friendly Management Team are very helpful and attentive to your personalised situation and needs.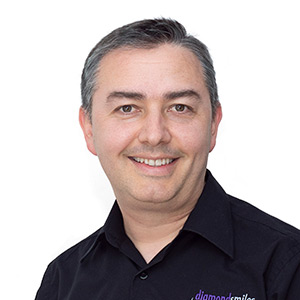 Meet Igor Saltamarski, Practice Manager
BDS, MDPPH
From an early age I was curious to know how dental prostheses are made. I was fascinated by how dentistry restores the smile and function of people who have lost their teeth.
Igor also had a minor accident when he was younger that strengthened his desire to become a dentist. After the injury, he was immediately taken to his dentist, who saved his tooth that has remained vital to this day. "When I viewed myself after the treatment, I was ecstatic and amazed at the dentist's skills. I also wanted to give joy and happiness to others who needed it the most."
Finding Fulfillment Helping Others
What Igor enjoys about dentistry is not only making others happy, but utilising his handcrafting skills. "I like modeling and carving, so I believe my qualities would benefit patients and the community." Igor also finds it gratifying to work as part of our team.
Education and Professional Development
Igor's education includes the following:
Master of Dental Public and Primary Health – UWA (2020)
Bachelor of Dentistry – Ss. Cyril and Methodius University Republic of Macedonia (2006)
Given the pandemic, Igor has been attending webinars as they are the main source of professional development. He also likes to read books and articles from each dental discipline. Igor misses attending all face-to-face dentistry related seminars and taking different hands-on training courses.
"My experience in dentistry, clinical skills, as well as knowledge gained while studying Dental Public and Primary Health, made this position the right choice for my career."
In His Spare Time
Outside the practice, Igor is passionate about all aspects of photography. He also likes to travel and explore Perth and Western Australia. Igor enjoys spending his free time with his wife and their sons outside. During the weekend and public holidays, he takes pleasure in long walks, riding a bike or swimming. "Last but not least, I have fun cooking Mexican or Asian dishes for my family and friends."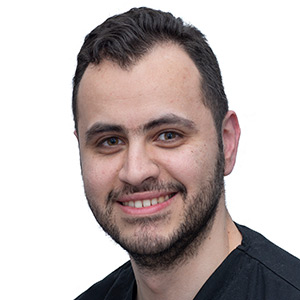 Meet Fadi Shbair, Clinical Manager
Being a Clinical Manager with a focus on logistics and staff development is always a fun part of my job. I love to work behind the scenes to ensure that everyone has a wonderful experience at the practice.
Fadi has worked in the dentistry field for more than 13 years, and loves helping new patients have the best possible experience in our care. Fadi achieved their degree in Dentistry in Palestine in 2012. Since, he have completed many courses in Advanced Endodontics, Implants and Composite Fillings. In addition, Fadi has been an associate Dentist for more than one year, and a Principal Dentist for nearly five years.
Outside of the Practice
When Fadi isn't working, he enjoys spending time outside with his wife and two children. Get to know more about Fadi when you book your next visit with us—he looks forward to meeting you.


Management Team | (08) 9405 2225