Wrinkle Relaxers & Dermal Fillers at Diamond Smiles Dental
When you look in the mirror, do you notice fine lines, wrinkles or other facial imperfections that you'd like to address? These can be signs of skin damage. If yes, we offer solutions at Diamond Smiles Dental! While you can't turn back the clock, we can help you look younger with our facial rejuvenation options.
Rejuvenate Your Appearance
It's not necessary to have invasive cosmetic surgery to refresh your facial appearance. You can put your best face forward with wrinkle relaxers and dermal fillers at our clinic. These can address a broad array of facial concerns: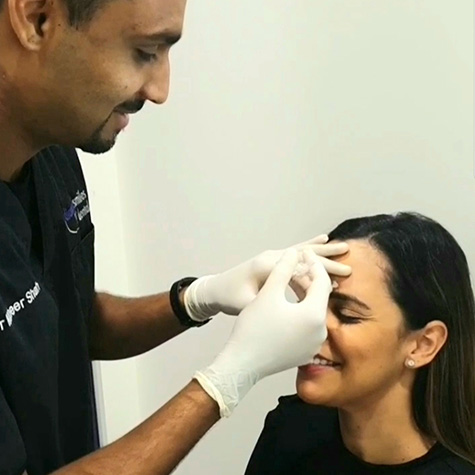 Bruxism: Wrinkle relaxers or anti-wrinkle injections are used to minimise the movement or clenching of the masseter muscle. This not only improves teeth grinding symptoms but also reduces the size of the masseter muscle and slims the jawline over a few weeks.
Facial Shape Changes: If you clench or grind your teeth, it could alter the shape of your face resulting in a square and more masculine shape. Our solutions can give your face a pleasing aesthetic shape.
Gummy Smiles (reduction): We can use an injectable to relax the upper lip muscle and hence diminish the appearance of a gummy smile.
Frown Lines, Forehead Lines, and Crows feet: Lines are caused by many factors which can range from muscle use, skin damage or skin elasticity as a result of aging. Our wrinkle relaxers block nerve impulses which inhibit the muscles ability to contract.
Lip Lines (smoker's lips): Smoker's lips develop due to a puckering of the lips that takes place during smoking. Our injectable filler can plump up the skin in the area, reducing wrinkles.
Lips that are lacking volume and definition: If you'd like to have plump, fuller lips, treatment with an injectable can give you the desired pout.
Marionette lines: These lines that form on the lateral side of your lower lip could make you appear sad or angry even if you're not. We can inject a filler into the area to increase volume and lift the skin.
Nasio-labial folds: When you frown, your facial muscles tense. The result is a formation of deep creases in and around your mouth and chin. Dermal fillers can improve facial appearance.
Poppy (dimpled) chin: Injectables can reduce the appearance of chin dimples and creases.
Book a Consultation Today
If you'd like to achieve a younger-looking appearance, call (08) 9405 2225 today to schedule a consultation!
* Any surgical or invasive procedure carries risks. Before proceeding, you should seek a second opinion from an appropriately qualified health practitioner.

Wrinkle Relaxers and Dermal Fillers Carramar, Tapping, Banksia Grove, Joondalup WA | (08) 9405 2225